Company to manufacture industry-low embodied carbon architectural products
Longboard Architectural Products Inc. ("Longboard," or "the Company"), a global leader in manufacturing premium interior and exterior architectural and design products, today announced Longboard ECO™, a suite of products that contain recycled aluminum. Manufacturing these products results in less greenhouse gas emissions and generates less than 50% of industry average embodied carbon.
Longboard ECO™ versions of The Company's catalogue of products will meet the same strict quality benchmarks as the standard line of products, are offered with the same robust warranties, and possess verified life cycle impact assessment (LCIA) and environmental product declarations (EPD).
"Today, the building and construction sector accounts for approximately 40% of global carbon emissions, and our clients are looking for ways to reduce that footprint," said Mike Heppell, Owner and President of Longboard. "Our new line of Longboard ECO™ products will provide architects, designers, and builders a sustainable option in reducing embodied carbon, obtaining LEED certification, and make achieving net-zero emissions attainable. This is a true innovation in our industry and underscores our commitment to providing the highest quality products while at the same time doing what we can to build a sustainable future."
"Aluminum is truly a wonder material which is infinitely recyclable and can support a circular economy," said Stefan Jansen van Vuuren, VP of Product Innovation at Longboard. "The Aluminum Association recently reported that since 1991, the carbon footprint of primary aluminum production declined by 49% while the footprint of recycled aluminum production dropped by 60%. By adjusting our supply chain and working with our upstream suppliers, we are pleased to now offer these low embodied carbon products to our clients."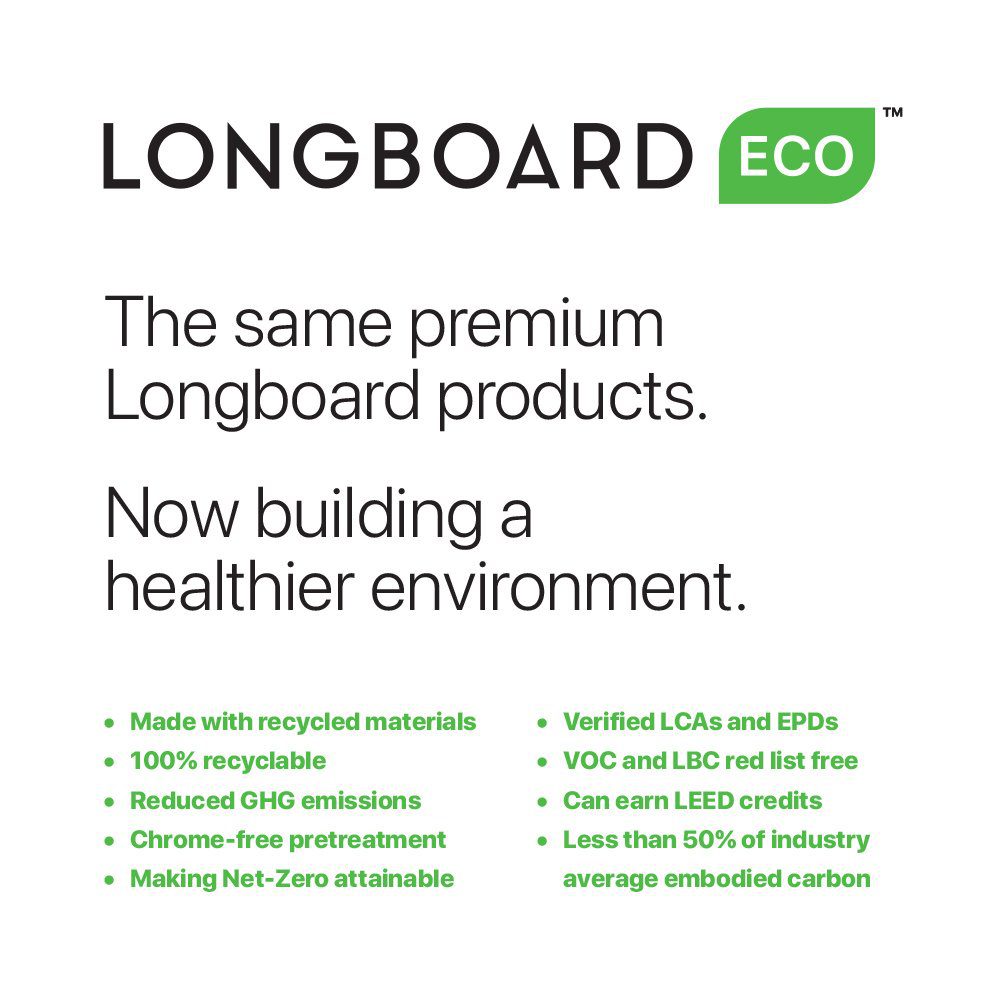 Longboard ECO™ products will be available to order from Longboard in Q1, 2022. For more information, visit https://www.longboardproducts.com/.
About Longboard Architectural Products Inc.
Longboard® Architectural Products provides the design and construction community with inspiring architectural products for thoughtful spaces. Founded in 2005, Longboard manufactures top-quality extruded aluminum profiles that are offered in a variety of solid color and woodgrain powder-coated finishes for interior and exterior spaces.
Longboard's goal is to drive product innovation and excellence, provide radical client care and industry-best lead times, and advance sustainability in construction by creating products that reduce carbon emissions over their life cycle. Longboard is ICC ESR-4183 and ESR-4184 certified, manufactures in North America, and is headquartered in British Columbia, Canada.