North American manufacturer expands architectural distribution network in Texas
Longboard Architectural Products Inc. ("Longboard," or "the Company"), a global leader in manufacturing premium aluminum interior and exterior architectural and design products is pleased to announce a partnership with Humble, TX based Wade Architectural Systems ("Wade").
The partnership equips Wade with Longboard's catalogue of innovative aluminum interior and exterior architectural products, including metal ceiling systems, walls and screens, perforated and acoustical solutions, cladding, soffit, tongue and groove planks, panels, louvers, beams, wraps, and cladding attachment systems.
"Our partnership with Wade will strengthen our focus on delivering the highest quality products for architects and designers in Texas," said Don Hanson, Vice President of Sales at Longboard. "Wade's experienced team knows exactly what it takes to create inspiring projects, and we look forward to seeing what's possible when Longboard is used."
"We are excited to have the opportunity to partner with Longboard," said Bill Wade, President at Wade. "Wade Architectural Systems is proud to partner with a company that creates products and solutions that make buildings more sustainable while increasing aesthetic value."
Longboard products are 100% recyclable, VOC and LBC red list free, provided with verified LCAs and EPDs, and can help architects gain LEED credits on their projects.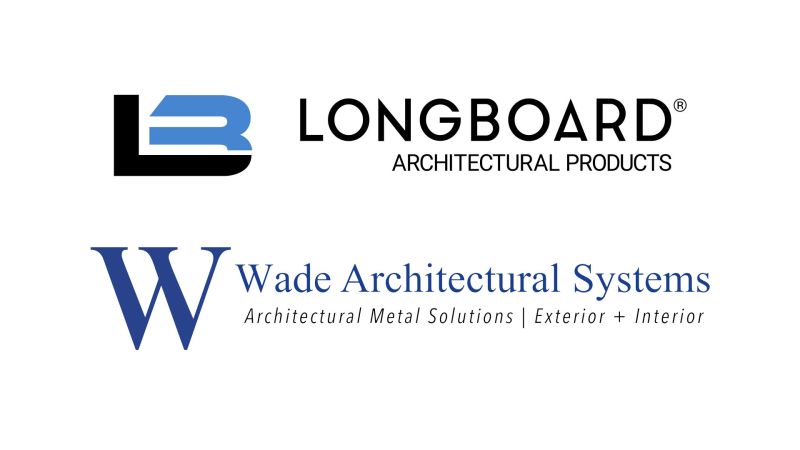 To learn more, contact Longboard Architectural Products at https://www.longboardproducts.com/ or Wade Architectural Systems at http://www.wadearch.com/.
About Longboard Architectural Products Inc.
Longboard® Architectural Products provides the design and construction community with inspiring architectural products for thoughtful spaces. Founded in 2005, Longboard manufactures top-quality extruded aluminum profiles that are offered in a variety of solid color and woodgrain powder-coated finishes for interior and exterior spaces.
Longboard's goal is to drive product innovation and excellence, provide radical client care and industry-best lead times, and advance sustainability in construction by creating products that reduce carbon emissions over their life cycle. Longboard is ICC ESR-4183 and ESR-4184 certified, manufactures in North America, and is headquartered in British Columbia, Canada.
About Wade Architectural Systems
Wade Architectural Systems specializes in exterior and interior solutions for the architectural community. Our company partners with industry leaders, who produce high-quality architectural systems, to offer solutions for visually pleasing interiors and exteriors balanced with installation strategies that are cost-effective. For more information, contact us at (281) 852-7900, http://www.wadearch.com.