According to a study completed by the Environmental Protection Agency, 93% of the average American life is spent indoors, with 68.7% of that time being in their residence.
This study was prior to COVID-19 and in the past year and a half, most of our time has shifted to being spent in our residences. Arguably during certain months, all 93% of that time was spent in one's own home over the past year.
Here are 5 ways to ensure that the materials you specify in your sustainable interior designs are healthy for both the occupants and the environment.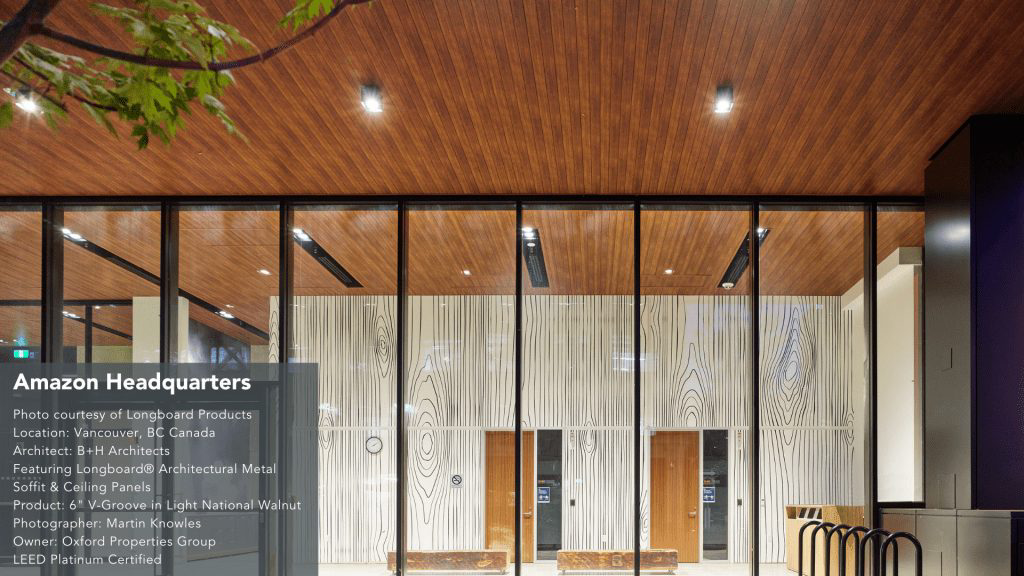 1. Partner with Sustainable Manufacturers
When choosing materials, seek a manufacturer that is transparent on their sustainability practices. 
At Longboard Products, we manufacture using over 90% hydroelectric power, and our operations are designed to create minimal waste, with all aluminum off-cuts being melted down and reused. 
We also ensure that all water being released back into the environment adheres to strict government regulations.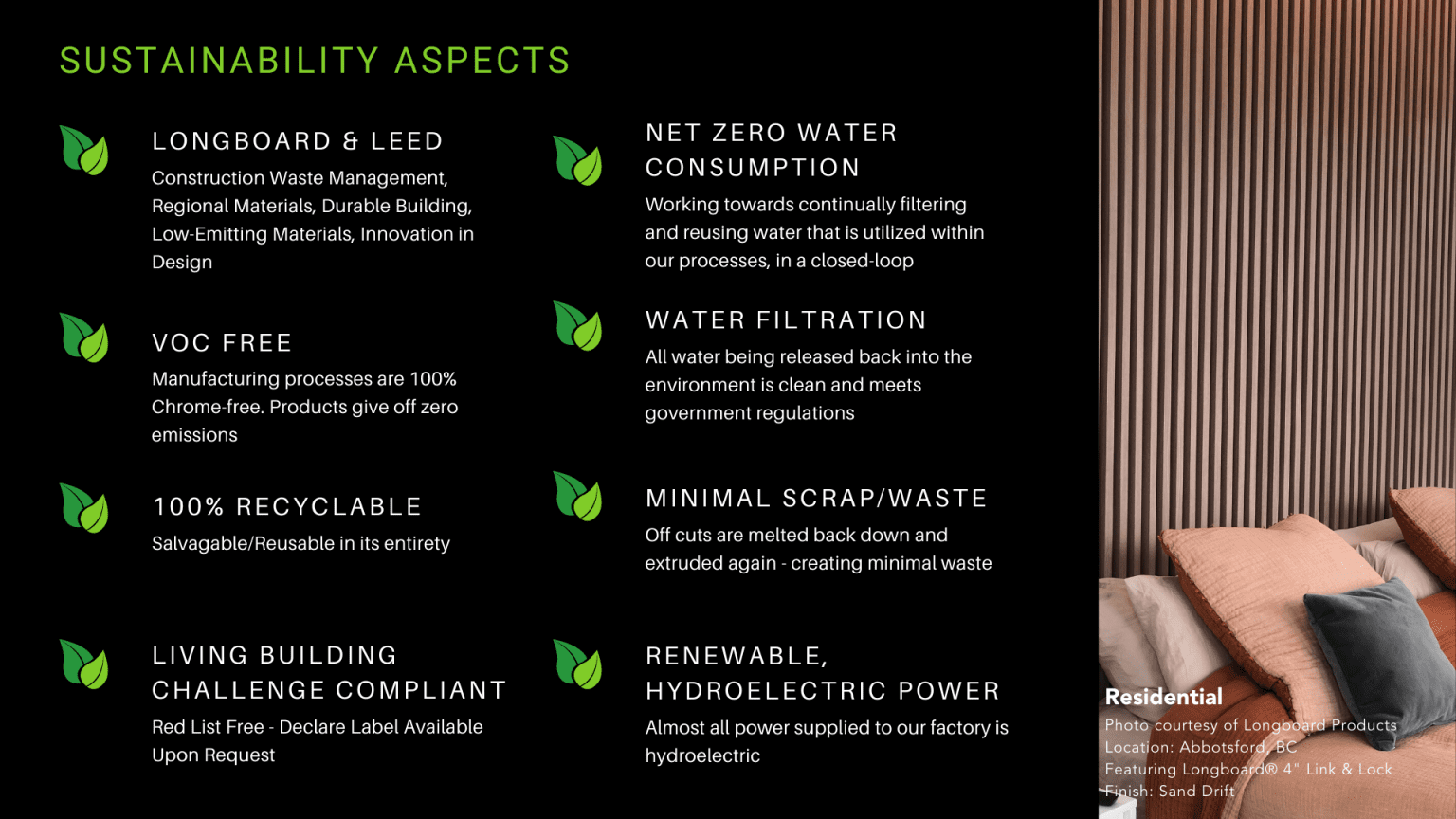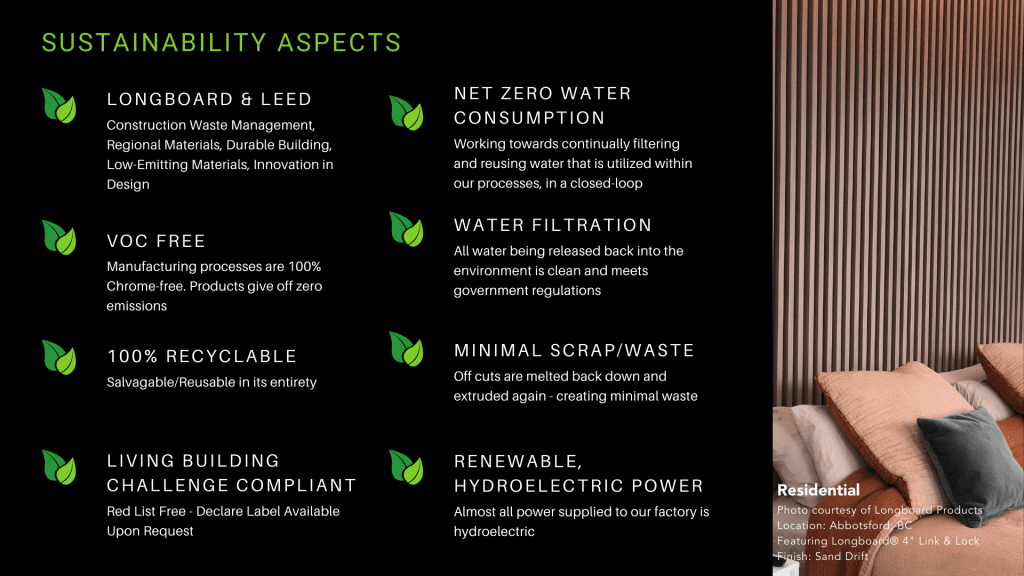 2. Specify Zero-Emission Interior Products
Further study found that concentrations of some pollutants indoors are often two to five times higher than typical outdoor concentrations. Utilize products that are VOC-Free, and give off zero emissions. 
You can also reference the Living Building Challenge and the products Declare Label for more information on all of the materials used to create a specific interior product. For example, using metal ceilings can create a beautifully sustainable interior design that is also emission-free.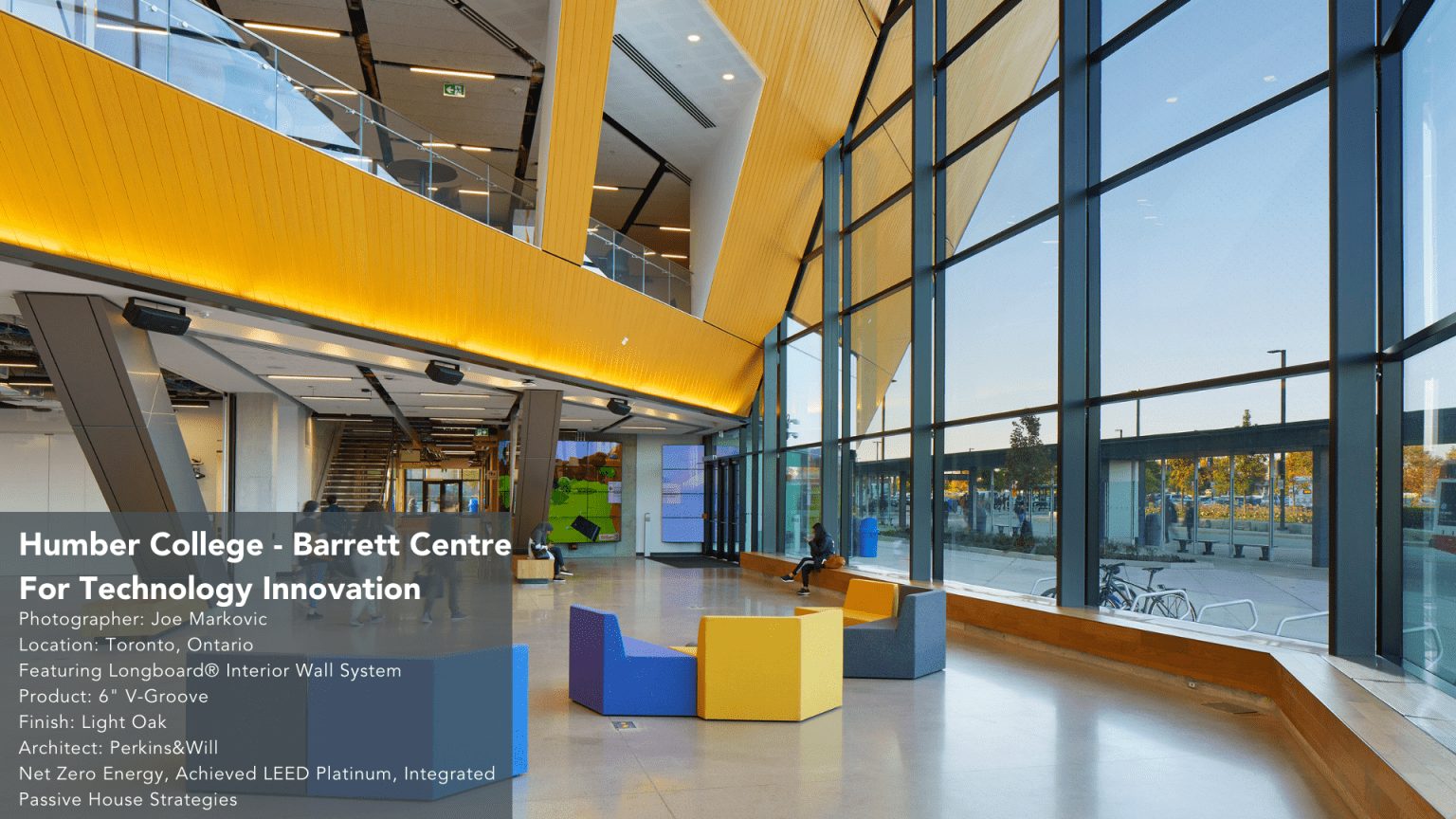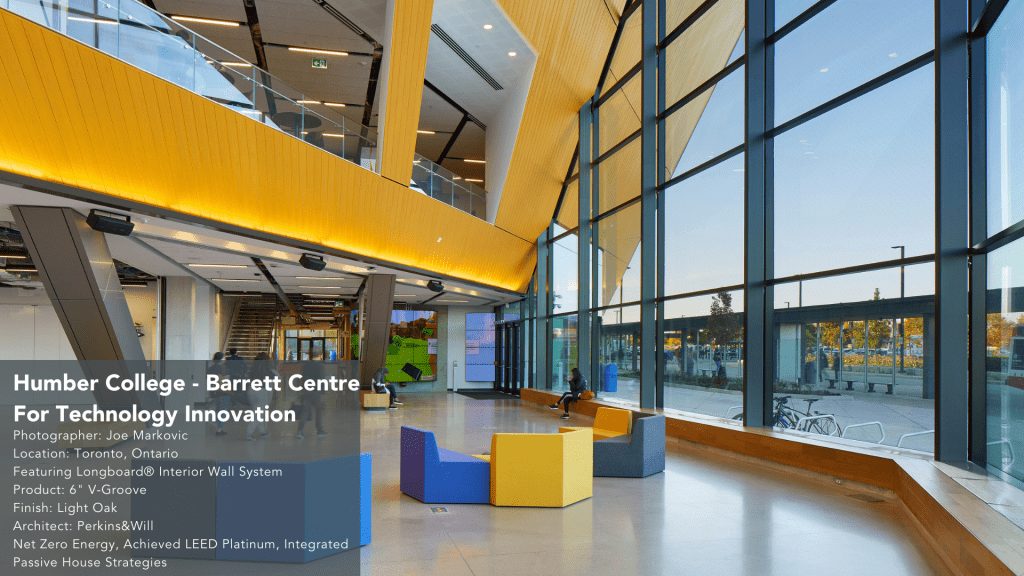 3. Use Recyclable Building Materials
Products that use metals or other recyclable materials will ensure that no waste is created during the manufacturing or construction process.
Aluminum is 100% recyclable, meaning that all waste is salvageable and reusable in its entirety.
Longboard Products is not only recyclable but we also incorporate recycled content back into the finished product making it a fully sustainable construction product.
4. Pursue LEED or WELL Certification
Work towards having the building LEED or WELL certified.
These standards assist with ensuring only healthy materials can be utilized and encourages environmentally friendly practices throughout.
If the full certification is prohibited by cost, aim to incorporate as many of the standards as the budget will permit so that the project still creates a sustainable interior design that is environmentally friendly.
5. Incorporate Biophilic Design
Newly trending in the fields of architecture and interior design, biophilia was first used by psychologist Erich Fromm in 1964, then popularized by biologist Edward O Wilson in the 1980s, when he detected how urbanization is leading to a disconnection with nature.
 Biophilic Design is the connection between humans and nature in architecture and is said to improve quality of life, enhance cognitive functioning, improve workplace performance, lower health and social problems, and enhance healing and recovery (Biophilic Design: The Theory, Science and Practice of Bringing Buildings to Life, 2013). 
Incorporating wood-like materials, greenery, sunlight and other natural elements can have a positive impact on the health and wellbeing of building occupants.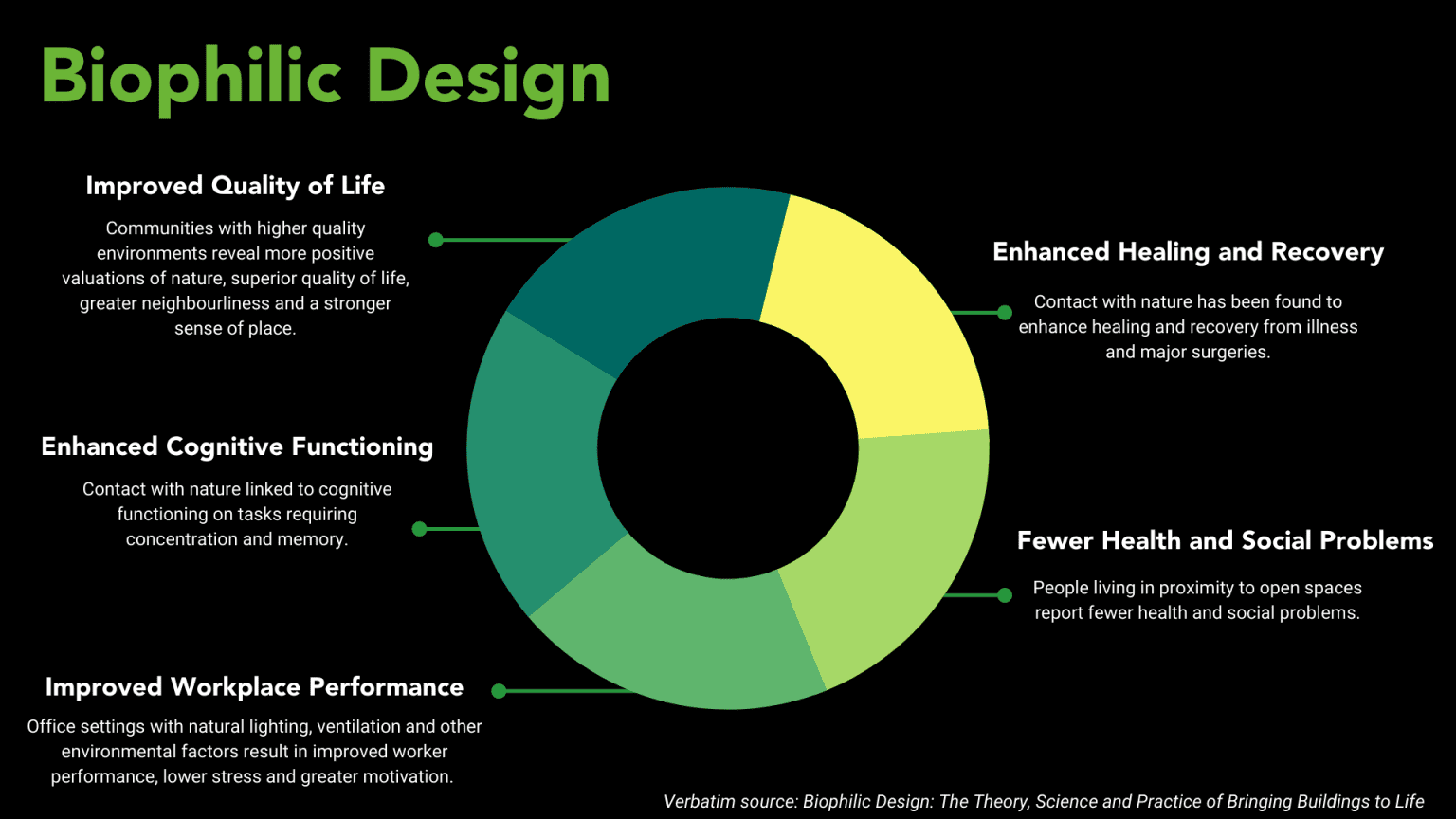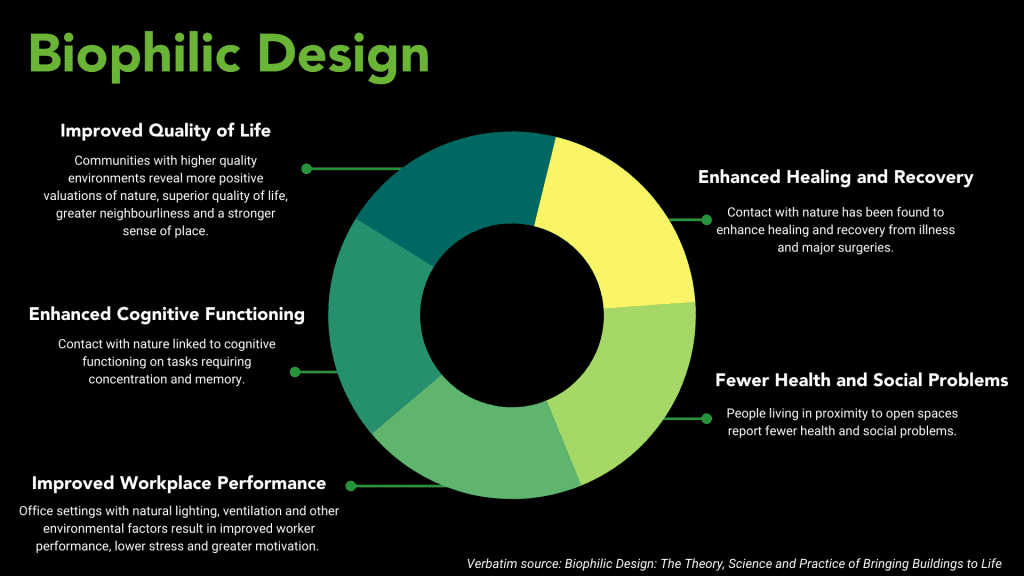 As architects and designers specifying materials, you want to choose products that are safe for a variety of applications and create a natural environment.
Following these suggestions will weed out materials that are harmful or misaligned with your firm's desire to create a high-impact interior design that will not only be beautiful but also create a healthy, sustainable space for occupants.
If you are seeking products for your upcoming sustainable interior design consider Longboard Products Interior Systems! Available all across North America with most popular finishes being available within one week.
Order a sample or request a quote now to see if our products are a fit for your project.