Intrepid Beam for Direct Mount Systems
Made of 100% extruded architectural aluminum, the Longboard Intrepid beam system is built to provide a simply stunning solution for linear ceilings. Easy to install, non-combustible, VOC free, and corrosion resistant, this system complements any interior building design.
Intrepid ceilings utilize various sizes of Link & Lock™ battens, Longboard's popular hidden fastener solution. The system was designed for easy install and creative adaptability in a variety of interior applications. Battens are mechanically fastened to conventionally framed ceiling structures as well as approved suspended ceiling structures and are therefore suitable to be used in all seismic categories. Suspension elements can vary from heavy-duty 15/16" T-grid to struts. Manufactured in either 12 foot or 24 foot lengths they are easily fabricated whether in a pre-fab facility or in the field to suit your project's conditions.
(Ready to ship within 1 week for orders less than 15k sq.ft)
Longboard's woodgrain finishes have a slight texture with a matte sheen.
(Ready to ship within 14 weeks)
Longboard's woodgrain finishes have a slight texture with a matte sheen.
* Available for Interior Only
Textured Matte
Naturally Aged Metals
Your screen, and our pictures do not accurately reflect aspects of our finishes – textures, sheen, woodgrain hues, etc. Always order a physical sample before purchase!
Contact us to confirm lead times for orders greater than 15k sq.ft in the Most Popular Finishes category.
Longboard Finish Classification
Type: Woodgrain / Solid / Metallic /
Speckle / Naturally Aged Metal
Surface: Smooth / Textured
Sheen: Matte / Satin / Glossy
Performance: AAMA 2604 / AAMA 2605
Finish Warranty: 15 Year / 20 Year
Longboard® is
Innovative
Sustainable
Quality
Visually Stunning
Our thorough and detailed installation guides offer simple to follow steps to increase efficiency and reduce time on the job site.
The sample images below are illustrative of some of the steps outlined in our documentation.
Like all open cell ceiling systems, our Intrepid system allows for the use of acoustic batts for improved sound performance. 
Explore the possibilities with the freedom to create a visually stunning space with a product that also serves a practical purpose.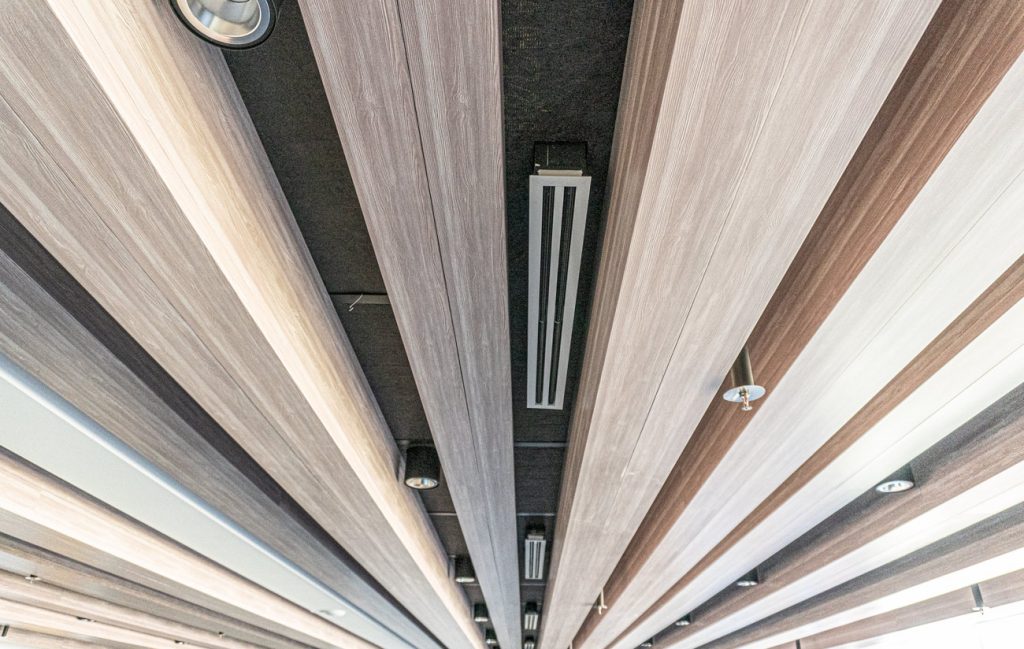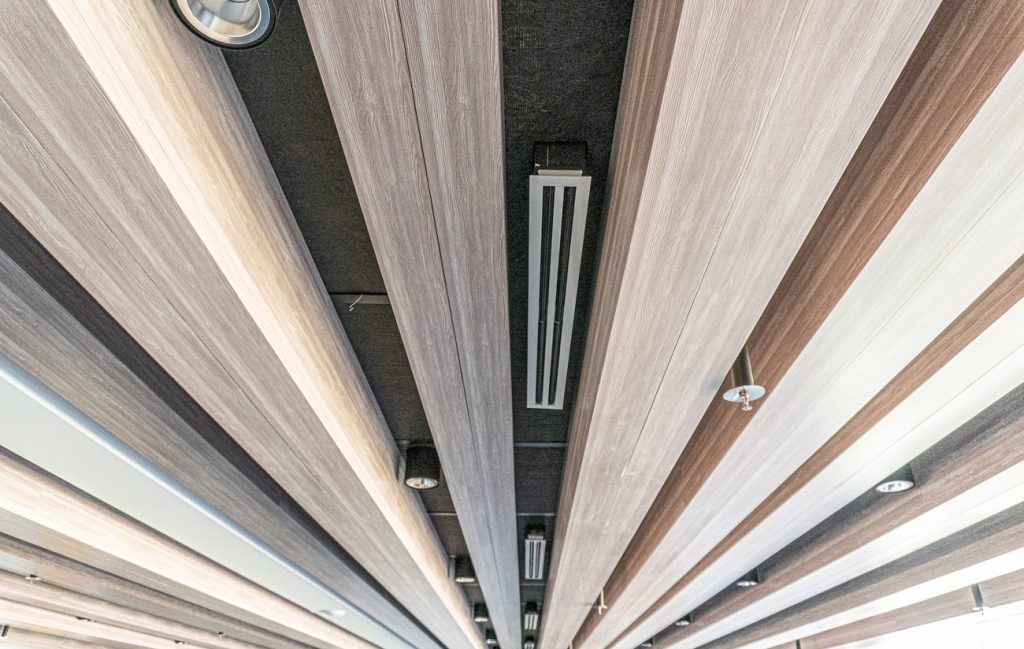 ICC ESR 4183

LADBS – Los Angeles Department of Building and Safety
ASTM E136 – Behavior of Materials in a Vertical Tube Furnace 
CAN/ULC S114 (CANADA) – Non-Combustibility (weight loss) 
EN 13501 (UK/EU) – Combustibility Classification
EN ISO 1716 (UK/EU) – Heat of combustion (calorific loss)
Flame Spread & Smoke Development
ASTM E84 – Flame Spread & Smoke Development 
ASTM E2768 – Flame Spread & Smoke Development
UL 723 (USA) – Flame Spread & Smoke Development
CAN/ULC S102 (CANADA) – Flame Spread & Smoke Development 
ASTM E1477 – LRV (light reflectance value) 
LEED – Evaluates a building's environmental performance
EPD – Life-cycle environmental impact of products 


All Longboard systems are available using our Longboard ECO™ line of sustainable aluminum materials. Longboard ECO™ products are made from minimum 50% recycled aluminum and possess verified life cycle impact assessment (LCIA) and product-specific environmental product declarations (EPD).
| Dimensions | 12' | 24' | End Caps (20/box) |
| --- | --- | --- | --- |
| 2" | 2X2LL.145 | 2X2LL.289 | 2LLEC.2 |
| 4" | 2X4LL.145 | 2X4LL.289 | 2LLEC.4 |
| 6" | 2X6LL.145 | 2X6LL.289 | 2LLEC.6 |
| 8" | 2X8LL.145 | 2X8LL.289 | 2LLEC.8 |
| Product | Qty | SKU |
| --- | --- | --- |
| Link & Lock Mounting Clip | 48, bag | LLMC.N48 |
| Dewalt® 1/2" Pilot Point Drill Bit | 1 | DRILLBT.05 |
| 24' Internal Stiffener | 1 | LLSTIFF.289 |
| 108' 3M® Double Sided Tape | 1 roll | LLTAPE.1296 |
| 2" End Mount | 20, box | 2LLEM.2 |
| 4" End Mount | 20, box | 2LLEM.4 |
| 6" End Mount | 20, box | 2LLEM.6 |
| 8" End Mount | 20, box | 2LLEM.8 |
Speak with a trusted advisor
to discuss your project goals and design needs