Months after Hurricane Ian's destruction, Florida continues to recover from a disastrous end to 2022.
To support rebuilding efforts, Longboard Architectural Products is introducing a 10% discount* on ALL extruded aluminum products to help repair and rebuild homes and buildings in the Florida community.
Not affected by the hurricanes? No problem! We encourage you to use these savings to give back to your local community.
* Offer valid on all orders placed until June 30, 2023. Applicable to all products installed within Florida, USA only.
Earlier this year, we received the Miami-Dade County notice of acceptance (NOA) for our line of architectural cladding products. This certification is a testament to our commitment to producing high-quality, durable products that meet the stringent standards set by the county.
Miami-Dade County is known for having some of the toughest building codes in the country, and the approval process is rigorous.
Companies must go through a series of tests and evaluations to ensure that their products meet the county's standards for wind resistance, impact resistance, and overall durability.
You can read our full press release here.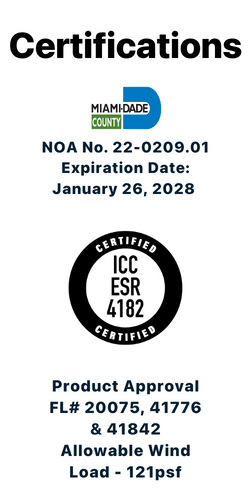 Longboard® is
Innovative
Sustainable
Quality
Visually Stunning