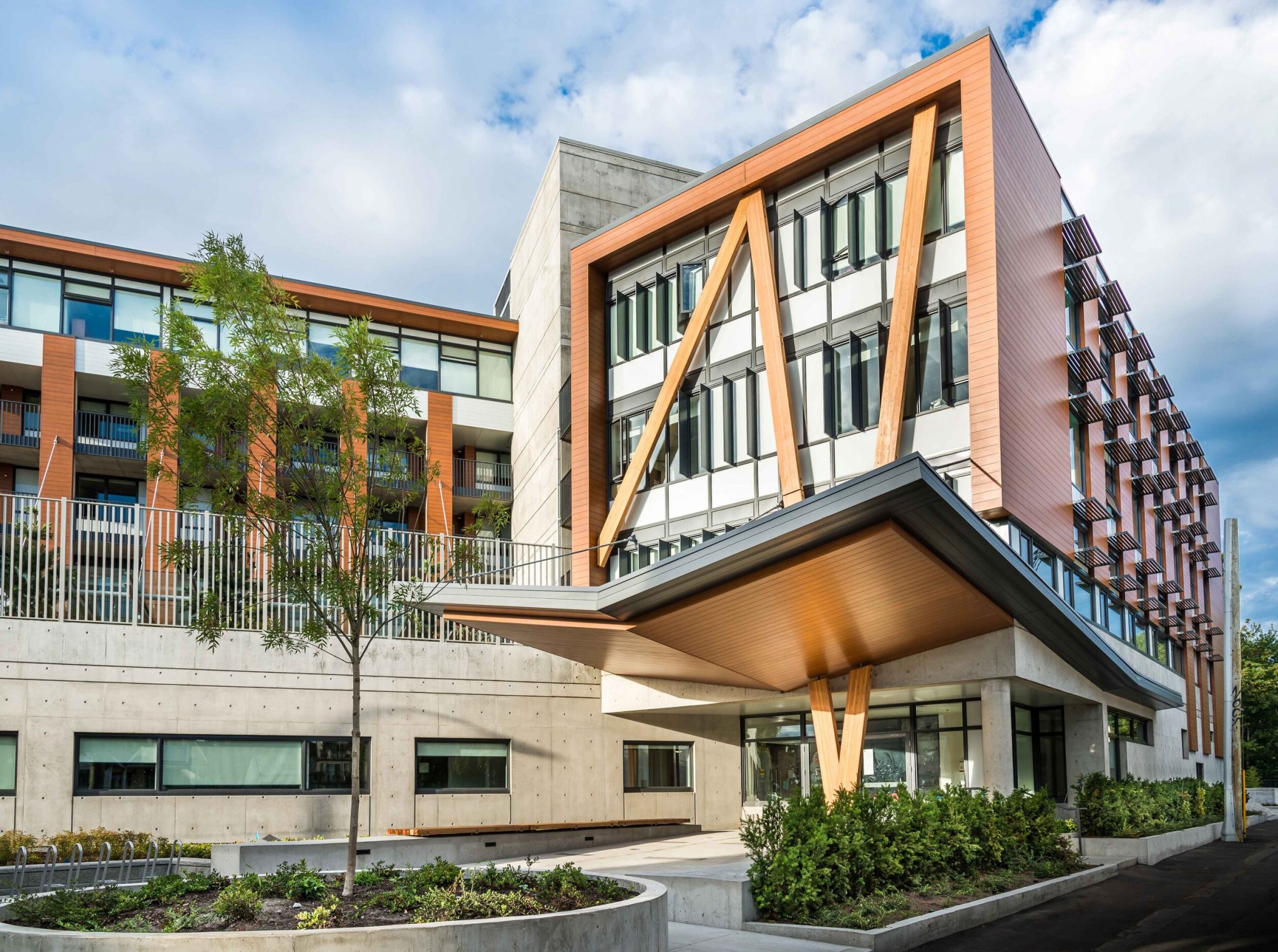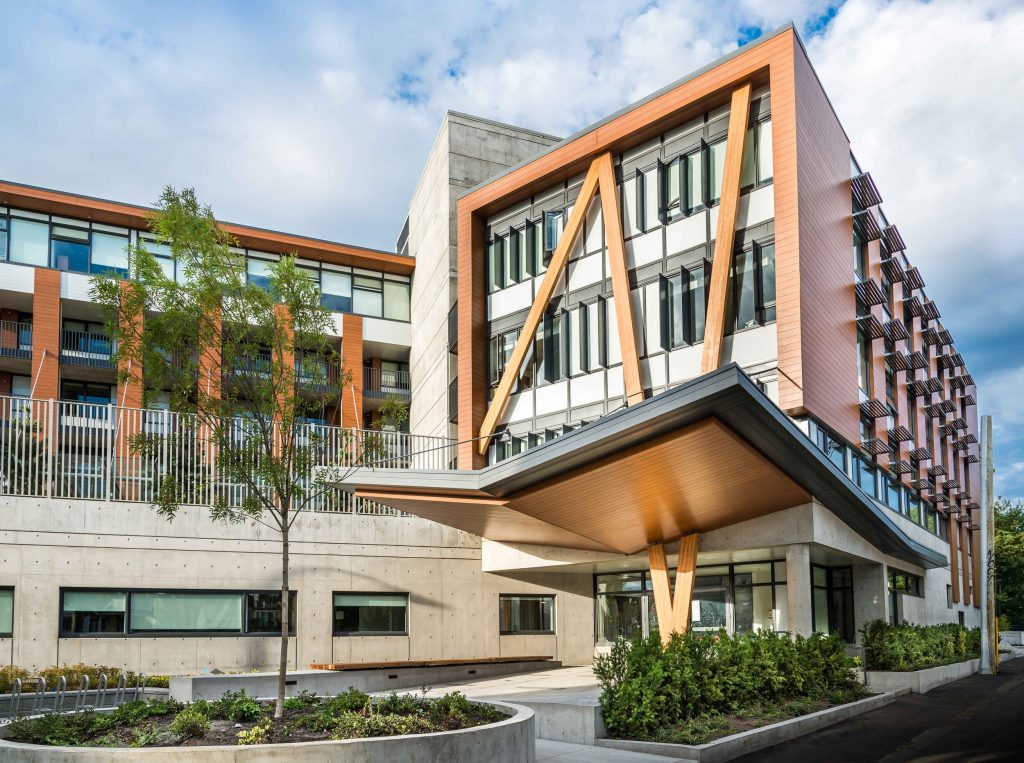 ISSofBC Welcome Centre was developed by Henriquez Partners Architects and Terra Housing Consultants. Longboard Products had the honour of being specified on the façade and soffit areas. The building is a 58,000-square foot facility and achieved to Gold LEED certification. Veronica Gillies, architect and director of innovation for Henriquez Partners Architects, said, "The form of the project responds to the site, neighbourhood and pedestrian context. The use of extensive exterior wood grain panelling and glulam beams set in abundant greenery creates a warm welcome for both tenants and immigrants. The interiors are warm, inviting and filled with light, as well as being easy to maintain."
ISSofBC Welcome Centre opened in June of 2016, and over 600 people walk through the centre's doors every day to access various government services. These services include but are not limited to temporary housing, settlement support, English language training, preschool and child care, as well as refugee and asylum seeker services.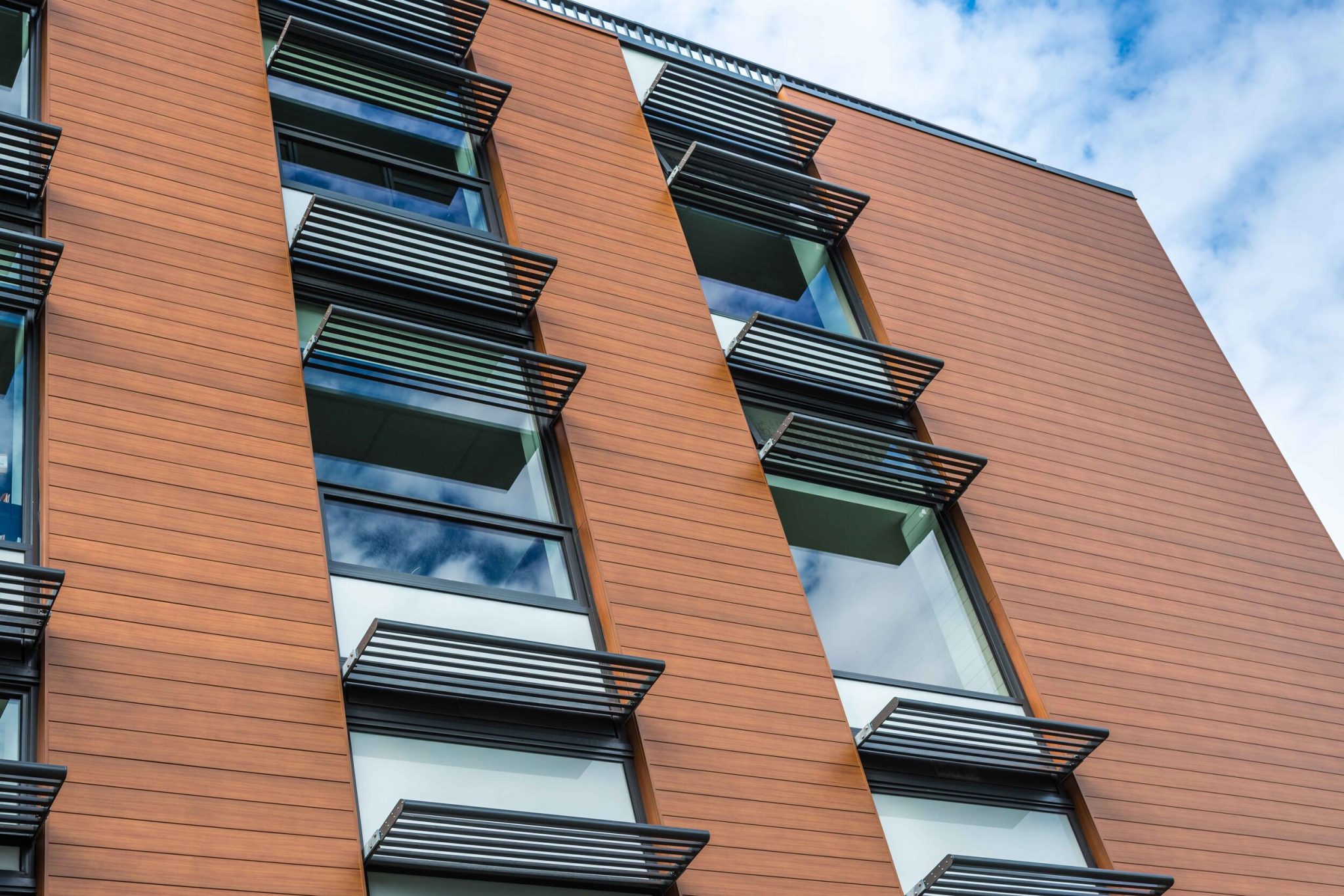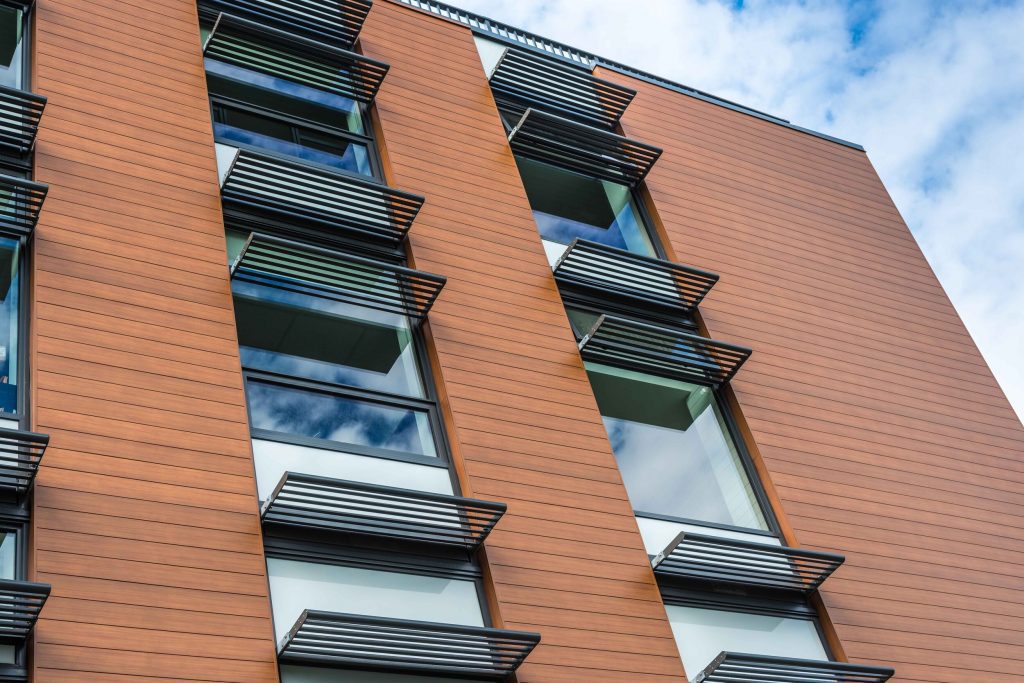 This beautiful building has also hosted many unique visitors such as Kate Middleton and Prince William, Justin and Sophie Trudeau. During their visit to the ISSofBC Welcome Centre as part of their week-long tour of BC in the Fall of 2016, the Duke and Duchess of Cambridge – accompanied by the Trudeaus and provincial politicians – met with a young, newly-arrived Syrian refugee family in one of the centre's housing units.
"We are very honoured to have Duke and Duchess of Cambridge visit," said ISSofBC CEO Patricia Woroch. "We appreciate the opportunity to showcase not only our purpose-built building – ISSofBC Welcome Centre – but also our services and the role ISSofBC plays in helping to settle newcomers to Canada."
"To mark the royal tour, Prime Minister Trudeau announced an official gift to ISSofBC of $50,000 from the Government of Canada to be applied to services closely aligned with the royal couple's interests and charitable undertakings."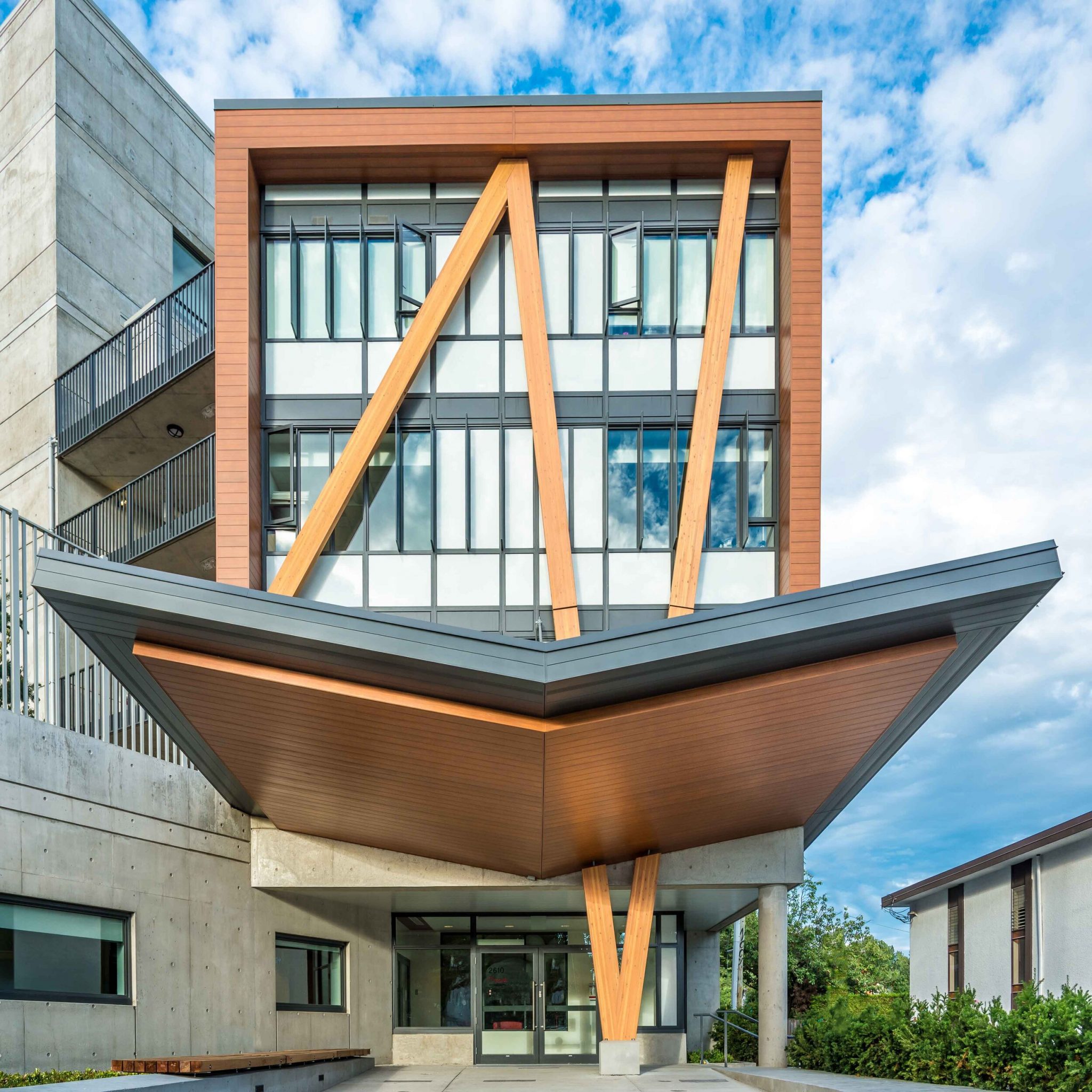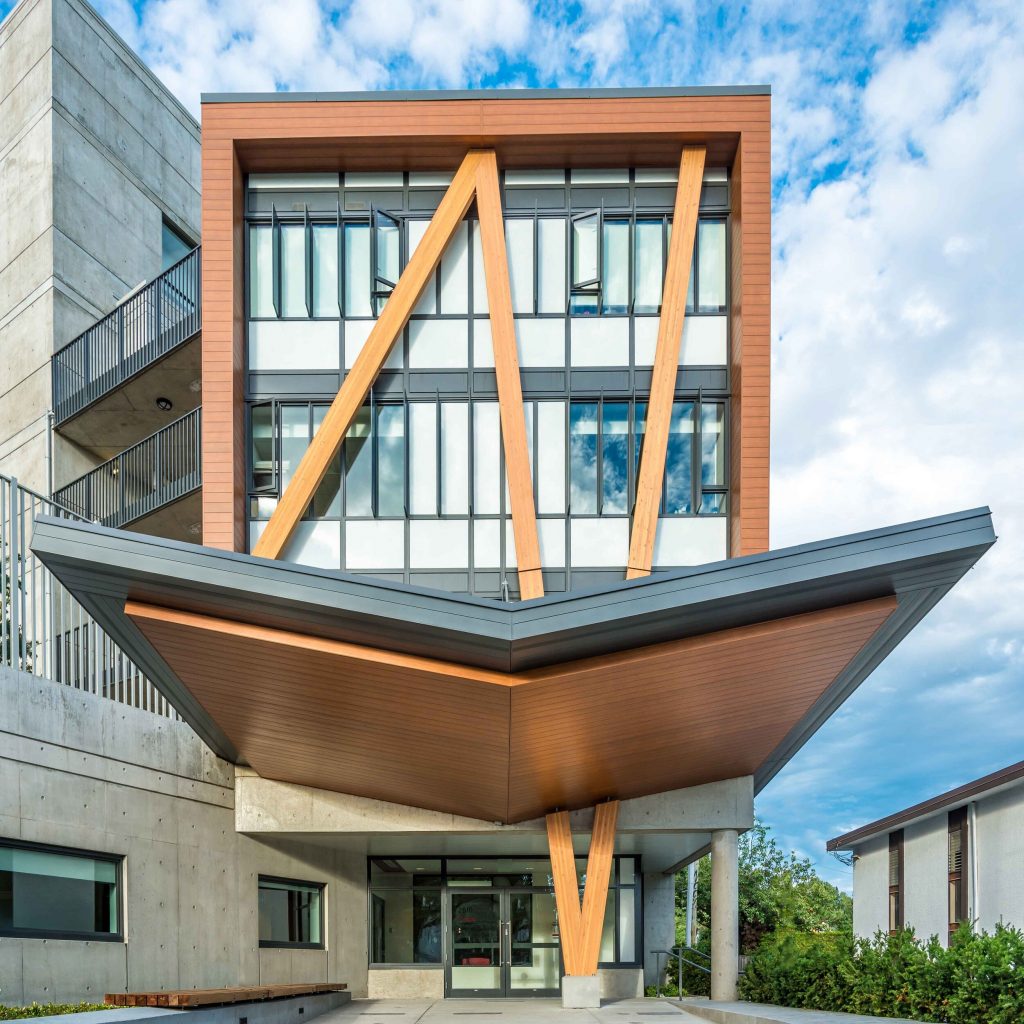 The construction of this $27-million facility was made possible with funding support from the Government of Canada and the Province of British Columbia, on land provided by the City of Vancouver, and contributions from individuals and supporters, primarily Vancity and the Edith Lando Family Foundation.
The beauty of Longboard creates a very warm and welcoming atmosphere, which compliments the building's exterior design and underlying message. In fact, the entrance has the word "welcome" written in 12 different languages. Since the ribbon cutting of this special project, ISSofBC Welcome Centre will continue to be a safe haven where immigrants and refugees can come for assistance and have a solid start in their new lives in Canada.